Chapter Fourteen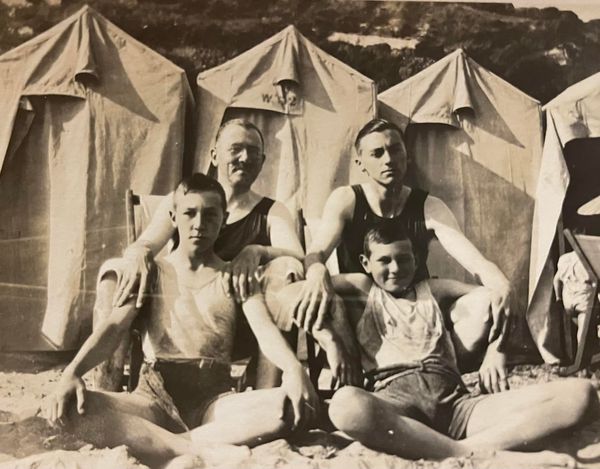 WWII PART 2 
Thomas L Drury MD had three sons, seen here on the beach at Bournemouth in 1929, Tom Senior and Junior at the back with John left and Kenneth right. Having secured sole ownership the family started to build a highly successful business but Tom L Drury needed some help, so to keep it in the family he brought his oldest son, and namesake, Tom, into the business to help him, at the age of 14 removing him from school to do so, as his other two sons came of age John and Kenneth they too joined the firm to learn the trade. Tom Senior ruled the company with an iron grip, having taken a holiday at the very upmarket Compton House Hotel Bournemouth in 1933 he wrote every single day with instructions for son Tom on who to and not to pay, enclosing the required cheques, instruction on movement and purchase of goods. He even requested that they posted the reply to letters earlier in the day as they were not reaching him until lunchtime. The GPO at this time operated two daily next day deliveries (who needed email) and so his ability to keep his finger on the pulse was evident right up to his retirement. When the Second World War broke out all three sons were old enough to join up to fight. As Timber traders, the company held "reserved occupational status" so one of the boys could stay to help run the business. 
To make it fair, their father made them draw straws to see who could / would stay. Thomas the oldest (moustache) was the lucky winner with his brothers John (suit) and Kenneth (uniform) going off to war. Having both been in the Territorial Army for many years, John joined The Gloucestershire Regiment and Kenneth The Royal Engineers. Luckily, both brothers survived, returning after the war to take up managerial positions within the company. Tom became the General Works Manager; John became Accounts Manager and Kenneth was the Yard and Production Manager. With Dad T.L. Drury as MD . 
The Government controls over the trade continued for a few years after the war and were only relaxed in stages. Private Limited Companies, such as Nicks & Co, were readjusting to the role of being independent Timber Merchants  again as they entered into the 50's when the next change at the top would take place .