Chapter Twenty Four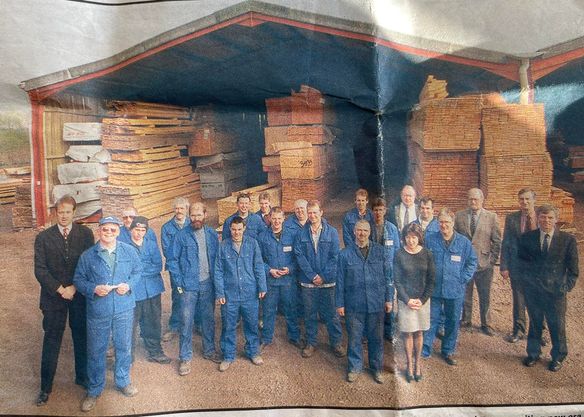 The building of the new managment team Old Friends from Williams and Farmer Ltd (W&F) and his New Friends at Nicks .
The key to success is building the right team so Phil looked to his old MD and mentor from Williams and Farmer (W&F) Peter Cartwright, and Tony Simpson W&F Production and Transport Manager. Peter joined Nicks as works Director and Tony as General Works Manager to help Phil turn the business around, Chris Drury Nicks old joint MD would become the Small Works Director heading up the new trade and retail centre sales , and the other old joint MD Tony Drury would step into the role previously occupied by his father John Drury as Finance Director . 
The reinvention of Nicks now as a company began with the conversion of a plywood shed into a new 10,000 SqFt DIY and Trade Centre under a new name "NICKS TIMBERLAND" this was designed to draw people in as a new entity. Partnering then began  with the existing Gloucester Timber Co suppliers network to fill Nicks yard with stock at a time when Nicks credit rating was falling , to protect everyone Phil devised  what was at the time a brand new way of trading on a consignment stock supply agreement which would protect and benefit all. This was the biggest piece of the jigsaw to enable Nicks to not only continue to trade but grow quickly in a financially balanced way . 
Phil did a deal with BSW Timber on C16 Carcassing  on a consignment bases enabling Nicks to fill its yard with stock to a higher level than previously on the understanding only packs opened and or sold would be invoiced at the end of each month with full unopened unsold packs remaining the property of the supplier . Similar deals followed to cover ALL stock lines with HOWIE C16, TAYLOR MAXWELL C16/C24, Fencing, UPTONS  for Joinery Redwoods and Whitewoods and ALTRAPAN on sheet materials. This not only greatly simplified the purchasing at Nicks but also quickly created financial stability with original stock being converted to cash at point of sale and purchases and sales being mirrored by consignment. Empowered by goods availability and with a new focus on the Merchant sector as a prime client base the new company grew, and eventually Phil merged GTC into Nicks fully in 1998 re-branding Nicks to the GTC style Logo to create the GTC GROUP which included all the GTC companies and Nicks Timber Company Ltd. Gordon Hogg Phil's partner in GTC moved down into the Nicks sales office . The larger company then strengthened its management team by adding another old W&F college Andrew Baker (ex W&F/Cox Long) as Sales Director, with further partnering agreements on stock from a number of GTC suppliers and this strong new management team the company doubled its turnover within three years and returned to profitable trading. For this transformation Phil now aged 39 was awarded the Young Business man of the year award in the then Citizen "Gloucestershire Business Awards" for 1999 . In 2022 Nicks will be a major sponsor to these awards so completing the circle .