Chapter Sixteen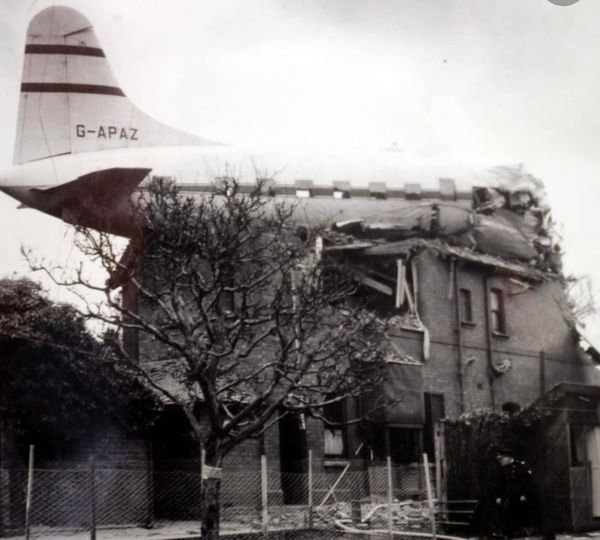 The Tuffley Avenue Plane Crash 1963 . 
This event has appeared on various FB pages over the years but always with the key pieces of info missing . In 1963 the last two houses on the left at the Stroud Road end of Tuffley Avenue were owned and lived in by the Drury Family owners of Nicks Timber  . On 27th March 1963 a Vickers Varsity plane on a training flight out of Staverton crashed on top of the last house which was occupied by two Mrs Drury,s and their companion all three woman survived despite the fuel flooding the house and running down the Avenue . Regrettably the two pilots RUSSELL A PALMER & KELSTON THOMAS died instantly. For the full story follow the link
 https://gloshistory.org.uk/sites/reprints/gh200702.pdf
For the TV coverage from 1963 follow
 https://www.youtube.com/watch?v=aV-OgngvnkM And https://www.macearchive.org/.../midlands-news-27031963...
These images have circulated around the world and have even been used by an Austrailian Insurance company as an advert to promote the need to insure   in the 1980s before being removed as a result of the Drury family taking legal action . Ironically at the time there own insurance company argued the claim saying the house only needed a new roof ! Both properties were damaged with the other one having the wing embedded in it . It took a year to get resolved and then only with the help of the local MP getting involved . The property was finally demolished and the block of flats built that are there today . In retirement Tom Drury lived in one of the flats which were still owned by the family . The other house was fully repaired . Another occasion when Nicks history entwines with the historic events of the city .